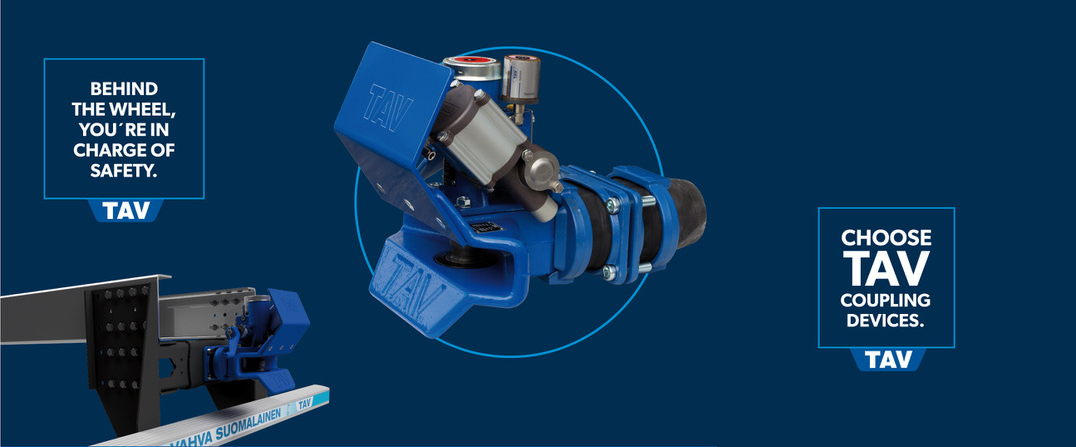 Changes in the dimensions and masses of module combinations have brought new requirements for coupling equipment. TAV50-v2 for coupling a trailer equipped with an articulated drawbar and TAV50D-v2 for coupling a dolly are approved for combination masses up to 90 tonnes. This also leaves a high safety factor for the 76-tonne combinations in circulation.
Since the beginning of 2021, Finland has been complying with the national exemption from the E type-approval of coupling equipment for lorries. As a result, the strength requirements for coupling devices are interpreted in dolly combinations according to the maximum road traffic mass of the combination instead of the total technical mass. Without the national exemption, the requirements for coupling equipment would have become excessive, as the maximum dimensions and masses of vehicle combinations in Finland are more flexible than elsewhere in Europe.
Changes to D and Dc values
In TAV's new coupling head models, the D value, describing the towing force in the direction of travel, has been increased from 190 kN to 220 kN. In addition, the Dc value of the TAV 50D-v2 coupling head has been increased from 120 kN to 160 kN. Coupling mouths conforming to the new approvals are suitable for towing masses of up to 90 tonnes. TAV50D-V2 also meets the strength requirements for the coupling equipment of all dolly combinations. For pneumatic operation, the coupling heads can be equipped with a TAV servo cylinder kit.
Sales and customer deliveries of V2 coupling heads will start in March.
"The new models passed the very demanding strength tests without problems, which shows the high quality and operational safety of our products," says Jarkko Schroderus of M. Korte Oy.  Known for its durability and reliability, the TAV range has gained a good foothold not only in Finland but also in the international market in recent years.
More information:
M. Korte Oy
tel. +358 3 371 2347
sales@tav.fi