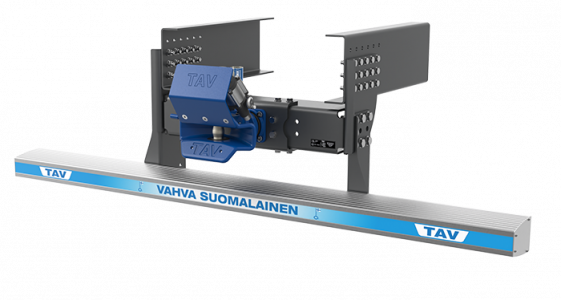 Changes in the dimensions and masses of module combinations have brought new coupling equipment requirements for heavy duty vehicle combinations. TAV is responding to these needs by launching a new range of TAV drawbeams and side plates with two main product lines in the spring of 2023.
The B200 drawbeam is particularly suitable for trailers and lighter dolly combinations for combination masses up to 80 tonnes.
The HD-series drawbeam B220 meets the same requirements as the B200 drawbeam plus the requirements for pulling heavy centre-axle and dolly trailers, including all versions and size categories now and well into the future. The B220 drawbeam is suitable for combination masses of up to 90 tonnes.
The new generation TAV drawbeams were designed with lightness and durability in mind. The goal was achieved by improving the drawbeam design and structure and using advanced materials. The new beams are manufactured from a single sheet by edging, and the centre reinforcement is now fixed with bolts. The weld-free structure allows for a uniform surface treatment to prevent corrosion.
Our make- and model-specific side plate range has also been redesigned in cooperation with vehicle manufacturers and other operators in the field.
The new type-approved drawbeams and side plates allow the installation and use of the TAV750 rear underrun protective device complying with the latest regulations.
The sales and customer deliveries of the products will start in March 2023. Known for its durability and reliability, the TAV coupling equipment range has been awarded the Key Flag Symbol as an indication of the products' Finnish origin.