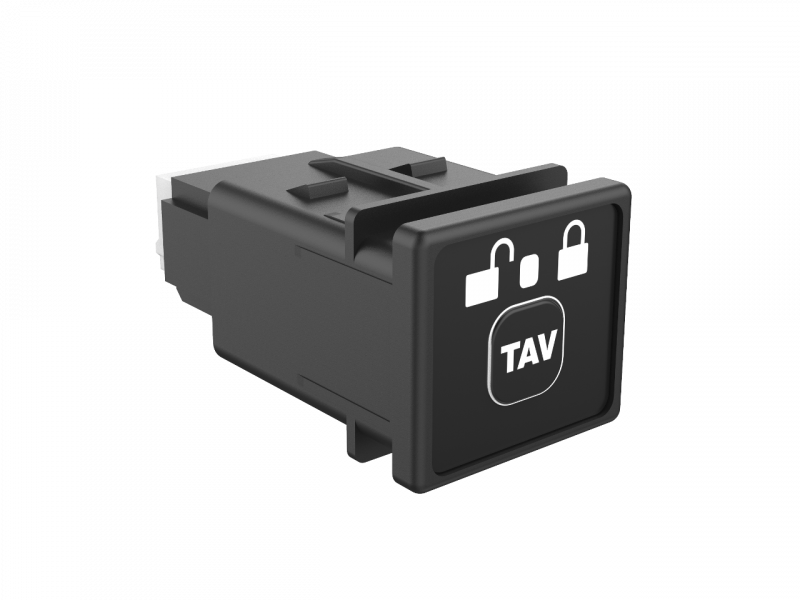 Remote indicator kit. The model-specific version is meant to be installed in the place of an empty switch spot on the dashboard. E-approved.
With the remote indicator kit, the driver can see remotely from the driving cab indicator light whether the coupling head is locked. The locking sensor kit can be installed on all TAV coupling heads.
Product code
Name
TAV5960MAN-2
Remote indicator kit MAN (2020->)
The kit includes:

an indicator light panel, which includes the integrated control unit for the device
a 15 mm sensor cable (TAV5952)
the necessary installation connectors

The LED indicator light kit is installed to the locking sensor of a coupling head equipped with remote operation. The sensor is delivered factory-installed with coupling heads equipped with remote operation. The sensor detects the position of the coupling head's locking pin and relays the information to the indicator light panel in the cabin.
When open, a red indicator light will be illuminated on the display panel. The red indicator light will also be illuminated in the event of a malfunction, e.g. severed sensor cable. When the coupling head is in the closed position, a green indicator light will be illuminated.
The indicator light can switched off using a pushbutton on the display panel. The indicator light will be re-activated when the coupling head is used.
The brightness of the LED lights is automatically adjusted according to the brightness of the environment.